Introducing
Lutathera
®
Lutetium (177Lu) Oxodotreotide
This medicinal product is subject to additional monitoring. This will allow quick identification of new safety information. Healthcare professionals are asked to report any suspected adverse reactions.
Peptide Receptor Radionuclide Therapy (PRRT) with LUTATHERA®
LUTATHERA® 370 MBq/mL solution for infusion is a radiolabeled somatostatin analogue (SSA) comprised of a radionuclide (Lutetium-177) and the peptide dotatate (or oxodotreotide):1,2
Dotatate (oxodotreotide) is a SSA that binds with high affinity to the somatostatin receptors (SSTR) overexpressed in malignant neuroendocrine cells such as the ones found in gastroenteropancreatic neuroendocrine tumours (GEP-NETs).2
Lutetium-177 (177Lu) is a β- emitting radionuclide, with a maximum penetration range in tissue of 2.2 mm (mean penetration range of 0.67 mm), which is sufficient to kill targeted tumour cells with a limited effect on neighbouring normal cells.1.
The affinity for SSTRs and the specificity of binding ensures a high level of specificity in the delivery of radiation to the tumour.2 Before starting treatment with LUTATHERA®, SSTR imaging (scintigraphy or positron emission tomography [PET]) must confirm the overexpression of these receptors in the tumour tissue.1
LUTATHERA® 's Mode of Action1,2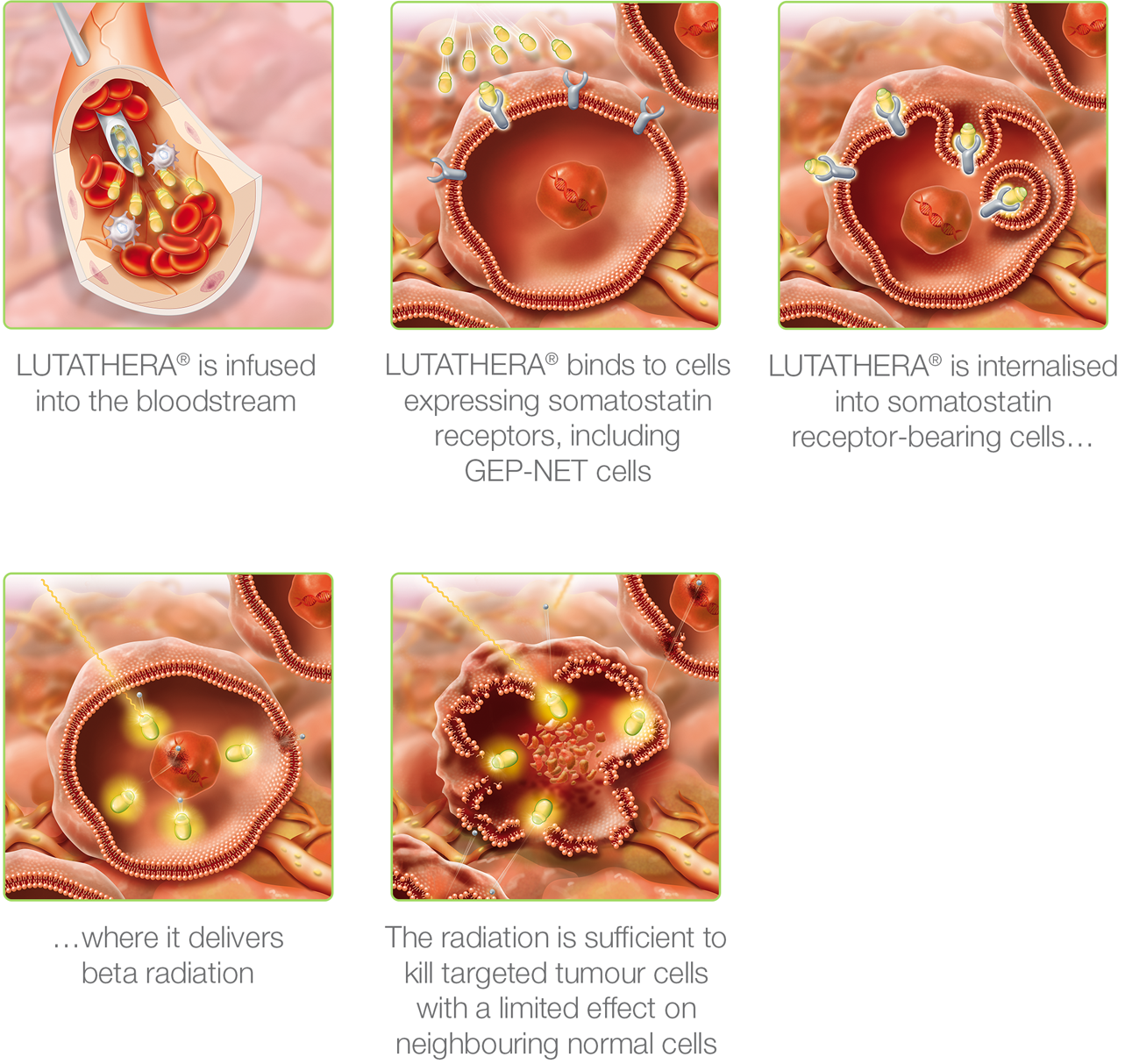 Theragnostic concept
LUTATHERA® is a PRRT drug that selectively targets SSTRs which are overexpressed by GEP-NET cells, to deliver cytotoxic radiation to tumour cells in a highly specific manner.3
Theragnostics is a treatment strategy that combines therapeutics and diagnostics. Nuclear medicine makes it possible by using the same molecular targeting compound to create diagnostic and therapeutic drugs, which work as theragnostic pairings.4
LUTATHERA® is part of a theragnostics pairing for the management of gastroenteropancreatic neuroendocrine tumours (GEP-NETs). GEP-NET patients who have had tumours successfully localised using PET imaging with the diagnostic drug (Gallium-68 (68Ga)-DOTATATE/DOTATOC) may also be candidates for therapy with LUTATHERA®, since both drugs bind to the same receptor.4,5 This pairing process avoids unnecessary treatment, by ensuring that the patient's tumours express the necessary receptor for LUTATHERA® treatment.4,5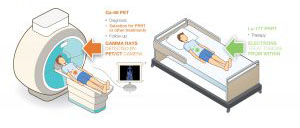 For more information on the mode of action of LUTATHERA® please watch our video.
LUTATHERA® indication
LUTATHERA® is indicated for the treatment of unresectable or metastatic, progressive, well differentiated (G1 and G2), SSTR-positive GEP-NETs in adults.1
Dosing and administration
LUTATHERA® is a ready-to-use radiopharmaceutical medicinal product for single intravenous (IV) use only.1
The recommended treatment regimen in adults consists of 4 infusions of 7.4 GBq each. The recommended interval between each administration is 8 weeks.1
Management of severe or intolerable adverse drug reactions may require extending the dosing interval from 8 weeks up to 16 weeks.1

Administration procedure1
Antiemetic premedication* should be administered at least 30 minutes prior to the start of the amino acid solution infusion.
Amino acid solution* administration should be initiated at least 30 minutes before LUTATHERA® infusion, with an infusion rate of 250–500mL/h (depending on volume). Amino acid solution should be administered over a 4-hour time span.

In case of severe nausea or vomiting during amino acid solution infusion, an antiemetic of a different pharmacological class can be administered.

LUTATHERA® infusion should start 30 minutes after the beginning of the amino acid solution infusion, with the infusion rate of approximately 400mL/h (this infusion rate is the reference rate; the infusion should start at a lower rate of <100mL/h for the first 5–10 minutes and should then be increased depending on the patient's venous status). LUTATHERA® should be administered over 30 ± 10 minute-time span.

Radiopharmaceuticals should be received, used and administered only by authorised personnel in designated clinical settings. Radiopharmaceutical receipt, storage, use, transfer and disposal are subject to the regulations and/or appropriate licenses of the competent official organisation.1
A compounded amino acid solution containing 25 g each of L-Lysine HCl and L-Arginine HCl** in 1 litre of sodium chloride 9mg/mL (0.9%) solution for injection, or water for injections, is considered the medicinal product of choice, due to its lower total volume to be infused and lower osmolality.1
Alternatively, some commercially available amino acid solutions can be used if L-Lysine HCl† and L-Arginine HCl‡ content is between 18 and 25g, volume is between 1 and 2 litres, and osmolality is less than 1,200mOsmol/kg.1
*Not provided with LUTATHERA®. **Recommended composition L-Lysine HCl 25g is equivalent to 20.0g lysine and L-Arginine HCl 25g is equivalent to 20.7g arginine. †Equivalent to 14.4-20g lysine. ‡Equivalent to 14.9-20.7g arginine.
Treatment monitoring
Before each administration and during treatment, biological tests (haematology, kidney function and liver function) are required to re-assess the patient's condition and adapt the therapeutic protocol if necessary (dose, infusion interval, number of infusions).1
Tests should be performed:
At least once within 2–4 weeks prior to administration, and shortly before the administration of LUTATHERA®.
Every 4 weeks for at least 3 months after the last infusion of LUTATHERA® and every 6 months thereafter, in order to be able to detect possible delayed adverse reactions.